You might think that making a bird feeder is complicated, but it doesn't have to be. Think about it - you could just spill some seed on the ground and the birds would come.
One year my family "invented" bird feeders, and if it hadn't been for the squirrels we might have kept at it. At one point we had nine different home-made feeders outside. If your squirrels are more accomodating, you can have a lot of fun creating new designs and doing scientific experiments to see what designs various birds prefer.
Here is a picture of two of our home-made bird feeders: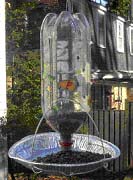 See? Duct tape + wire + recycling bin refuse = Bird Feeder!
If you're not feeling so creative, here are some sites with make-your-own bird feeder designs. I notice that most of the milk-jug designs tell you to cut a large hole - I can tell you that if you do that you're more likely to attract squirrels and pesky large birds like jays and crows.
http://ut.essortment.com/homemadebirdfe_rtbv.htm
http://www.northern.edu/natsource/DAKOTA1/Birdfe1.htm
http://www.billybear4kids.com/holidays/earthday/birds/house.htm
And, check out our gallery of birdfeeders designed by kids during our Big Learning Workshops