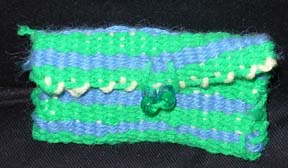 1. Weave a patch about 4 1/2 inches wide and 6 inches tall.
2. Fold the bottom 2 1/4 inches up to form the pouch. Thread a yarn needle (also called a tapestry needle, available at craft stores) and sew each side of the pouch closed with a whip stitch.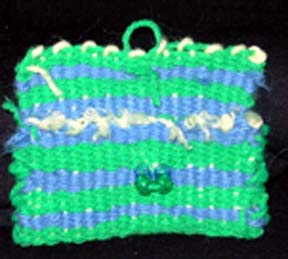 3. To make the bead and loop closure, knot one end of a piece of yarn. Thread it from the back side of the front panel, through the panel, through the beads, and back through to the back of the front panel as shown. Cut and knot the two ends together
Then thread yarn through the center of the flap to make a loop.
This project was simplified from this inspiring project.