To make this puppet theater you need:
14 large craft sticks (3/4 inches wide by 6 inches long)
scraps of felt
acrylic craft paint

Hot glue gun and glue
T-square (ruler OK)
Wire cutter with at least a 3/4-inch blade (for cutting craft sticks - see cutting tips)
Note: Whenever you cut a craft stick, sand the ends by rubbing on a piece of sandpaper. This will greatly improve the look of the finished product.
Front Panel (see tips for making panels)
Cut the ends off of five craft sticks to make 5 slats, each 5 1/2-inches long.
From two more craft sticks, cut two cross pieces each 4 3/4 inches long.
Complete the front panel by gluing the two cross pieces across the five slats.
The square viewing area above the front panel
Cut one end off a craft stick to make a piece 5 3/4 inches long. Repeat with a second craft stick.
Glue each stick, uncut end down, to the back of the front panel even with the side, at the bottom of the third slat from the top as shown (see yellow arrows).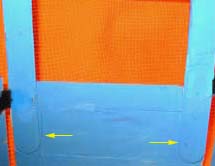 To make the cross piece for the top, cut a craft stick 5-1/2 inches long with both ends square. Glue it across the front (the opposite side from the one you glued the last two pieces) to form the top of the viewing area.
Side panels
Make two panels, 4 inches high and two craft sticks wide (in our model, we cut the bottom trim longer for greater stability, but this is optional). Glue the panels together as shown in the photo at the top of these instructions.
Lay the main part of the puppet theater down, with the back side showing. Set the side panels next to it, trim side down, and attach with the side panels to the body by gluing to strips of felt as shown below.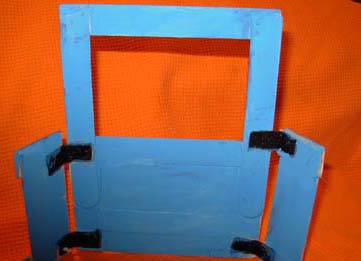 Paint
Sand edges and paint with craft paint.
Back to the Big Learning Craft Sticks Page