---
Kids go Crazy with Craft Sticks!
---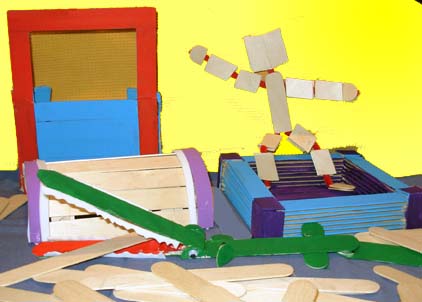 Craft sticks (also known as Popsicle sticks) are a great way for kids to make durable, fun, and attractive projects from real wood. Kids can make almost anything from craft sticks! They're easy to cut, easy to glue, and with a little technique even young children can get great results.
This is a special kind of craft site - it's more than just a bunch of instructions. Every project and technique here is carefully designed to teach your child something important about math, science, art, engineering, woodworking, and other important subjects. The more projects your kids do, the more techniques they will learn and the more they'll be able to design interesting projects on their own.
To help your child get the most out of each project, you should encourage creativity and careful work, and let them do as much as much of the project themselves as they can do safely.
Below you'll find three kinds of information. Basic Techniques are generally-useful tips for working with craft sticks. Your child can use these techniques in a multitude of projects. Project Ideas are start-to-finish instructions for fun wood toys and gifts you and your child can make together. They all use Basic Techniques and are meant to be extended and modified as your child's confidence grows. Family Fun and Learning Ideas are tips that help you help your child learn more from each project.